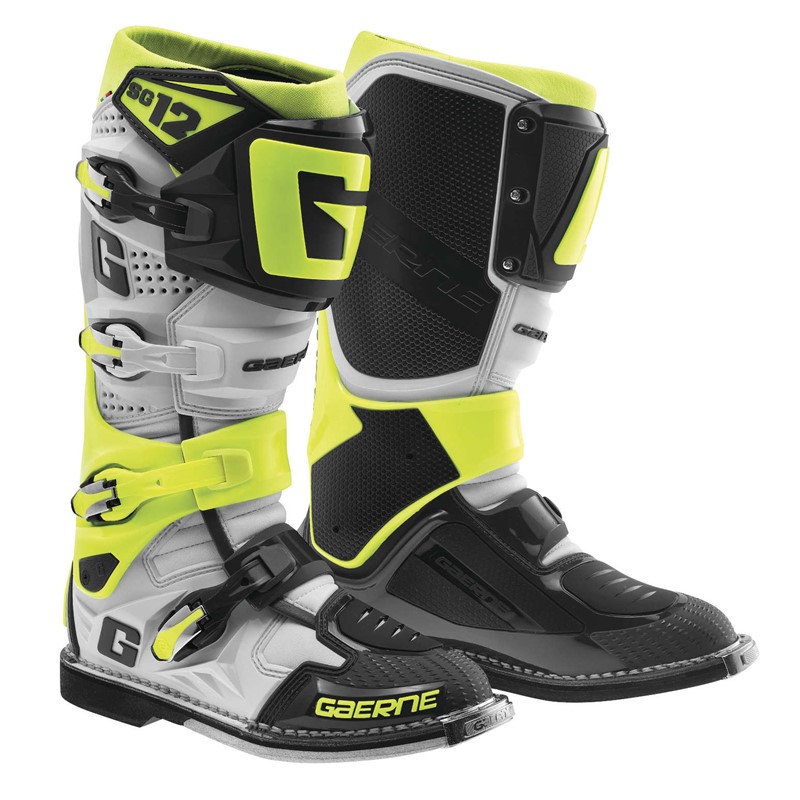 click on image for larger view
Sorry...this product is no longer available.
Product Description
Dual Stage Pivot System:
This revolutionary new system is patented and exclusive to Gaerne. It features a two-pivot system with the first pivot attaching to the Razorback to provide a strong lateral support. A glide-plate keeps the upper in a firm and upright position. The second pivot is fixed on a sliding glide that provides a natural feel on the peg in a shifting or breaking position. Although it will bottom out, it absorbs the shock in over-jumps or unwanted compression.

Grip Guard:
Located on the inside of the boot, the rubber Grip Guard provides exceptional grip as well as a heat-resistant padding. It is improved for abrasion resistance.

Front Plate/Shin Guard:
Shaped for a perfect fit, this thermoplastic shin plate can accommodate a bigger leg or knee-brace by removing three screws to make the opening wider.

Buckle System:
The SG-12 utilizes four lightweight alloy buckles that attach to an adjustable strap. This system provides the rider an easy-in and easy-out, non-failure system.
Gaiter:
Made from a Swiss breathable fabric called Acronos, the gaiter is extremely stretchy but has the perfect shape to keep the sand and debris out.
Interior Lining:
The inside of the SG-12 features Gaerne Memory Cell Foam, known for the most comfortable feel and fit ride after ride.

Heel Cup:
The new heel cup has been designed to absorb shock in the case of a rear compression. The sole has a new look, but still uses the famous Gaerne Dual Composite anti-shock rubber. The footbed has been specially molded to correctly support the foot with the rear of the footbed utilizing a new shock absorbing material. The front of the footbed features construction that allows the foot to vent.
Updated slim toe box for greater shifting and braking feel of the bike
The toe cap has been redesigned and reinforced to provide a new tougher look